A website is a central location of various web pages on which information are displayed and that are all linked, can be accessed by visiting the home page of the website using a browser.
Initially when the websites are created people used to browse the web only on their PC's or Laptop's. With the fast development in fields of technology and infrastructure, today people surf while on the go, on their Tablet's and Mobiles. Due to this having a Responsive Website becomes all the more important, as the word says responsive. The best part of such websites is that it adjusts to the screen resolution of the device you have opened the website on.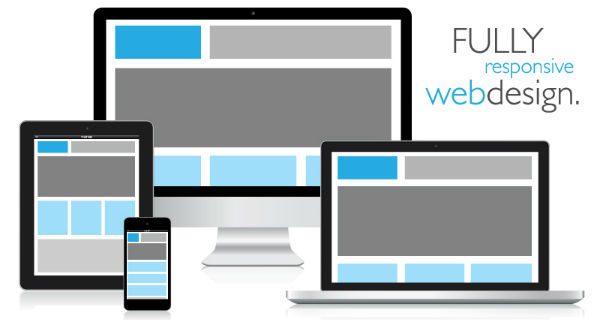 Responsive website design is a way to optimize the layout in a manner that all the significant information is presented in an optimal viewing way, with ease of reading and navigation with a minimum of resizing, panning and scrolling any kind of device or screen size.
A responsive website can anytime give a better browsing experience to a user and are also recommended for Search Engine Optimization. Responsive web design services are new age Internet concepts which have unleashed a new era of web-surfing altogether! These new website ensure a distinctly better surfing experience, and grab complete attention of your target viewer.In fact search engine like Google prefers to rank responsive website higher on their search result pages, because a responsive website will be easy to browse for its users. Over the years, Google has always tried to prefer sites which are informative and user friendly. Due to this important factor, it becomes all the more necessary to have a SEO friendly responsive website for your business.
Why CyberCure for Responsive Web Design ?
CyberCure is one of the best responsive web design company in Delhi NCR India.  CyberCure allows you to get multiple sites for the price of one while ensuring that the site features the web tools and content you need to grow your organization.

We create web pages that are easily navigable on screen of any size and device. Technically, this is called responsive web development. While designing such sites, we keep some key points in mind, namely clear readability with fluid navigation and eliminating horizontal scrolling at all cost. The sites are designed in a way that no matter which device they are accessed from, the call to action is simple and apparent to the users.
As a responsive web design agency, we not only incorporate responsive design in your new website design project, but if you have a website and need to update it with responsive design, we can modify your website's design and make it responsive. When you're looking for responsive web design services in Delhi NCR, look no farther than CyberCure.
Should you go for a Responsive Website or Mobile Website? Ask our experts Now:
Arrange a Quick Call Back for Services