Malware Analysis and Security
Malware Analysis and Security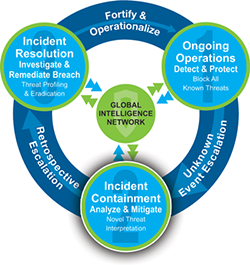 What is
Malware Analysis
?
Malware or malicious software is any computer software intended to harm the host operating system or to steal sensitive data from users, organizations or companies. Malware may include software that gathers user information without permission Malware analysis is the process of determining the functionality, origin and potential impact of malware such as a virus, worm, trojan horse, rootkit, or backdoor.
Examining malicious software involves several stages i.e
Manual Code Reversing
Interactive Behavior Analysis
Static Properties Analysis
Fully-Automated Analysis
The solution Malware Analysis integrates products from the Security and Policy Enforcement Center and the Resolution Center to deliver a comprehensive lifecycle defence that fortifies the network by blocking known threats, proactively detecting unknown and already-present malware, and automating post-intrusion incident containment.
Why CyberCure for Malware Analysis & Security?
Malware analysis and security is a key component of the Cybercure Advanced Threat Protection Solution integrated with the Cybercure Content Analysis System and Security Analytics Platform, CyberCure is one of the best  Malware analysis company in India, CyberCure's malware analysis technology simulates your systems to detect evasive malware, and uses custom virtual environments for faster anomaly detection. Without ever putting actual systems or applications at risk, the technology provides a map of the damage the threat would cause if allowed to run in your network, so you can contain zero-day threats and unknown malware.
In CyberCure Technologies Pvt. Ltd. we assured that the company is well equipped to perform malware analysis and security for any network.
Arrange a Quick Call Back for Consultation