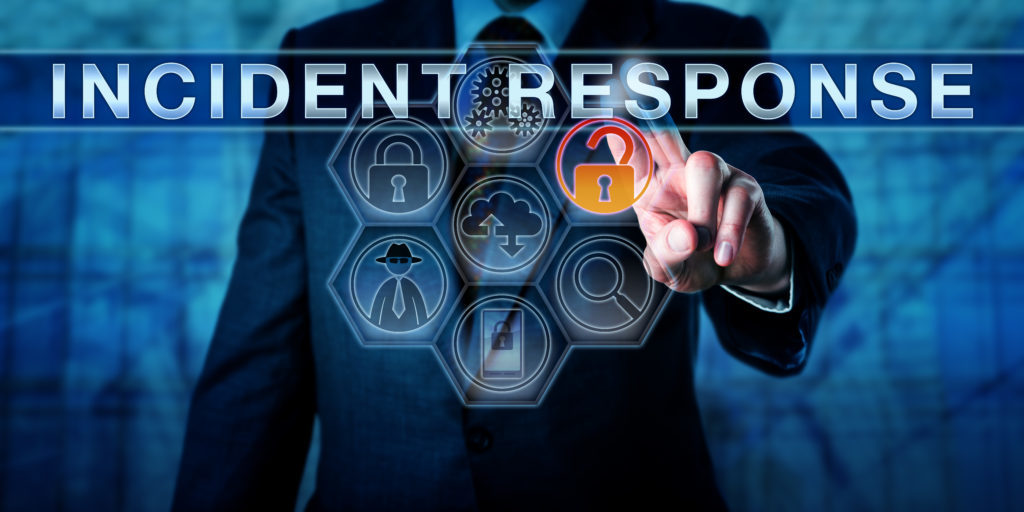 What is
Incident Response
?
An Incident Response is an organized approach to addressing and managing the security breach after an attack. An approach is to handle the situation in a way that limits damage and reduces recovery time and costs. Any incident that is not properly contained or handled can escalate into a bigger problem that can ultimately lead to a damaging data breach or system collapse. Responding to an incident quickly will help an organization minimize losses, mitigate exploited vulnerabilities, restore services and processes, and reduce the risks that future incidents pose.  
Why
Incident Response
Plan?
Incident response plans usually include instructions on how to respond to potential attack scenarios, including data breaches, denial of service/distributed denial of service attacks, network intrusions, virus, worms or malware outbreaks or insider threats.
An incident response plan can benefit an enterprise by outlining how to minimize the duration of and damage from a security incident, identifying participating stakeholders, streamlining forensic analysis, hastening recovery time, reducing negative publicity and ultimately increasing the confidence of corporate executives, owners and shareholders.
Incident Response Plans should not be created during a security incident nor should one person be assigned to develop an Incident Response Plan. The plan should identify and describe the roles/responsibilities of the incident response team members who are responsible for testing the plan and putting it into action. The plan should also specify the tools, technologies and physical resources that must be in place to recover breached information. Management buy-in is essential for an Incident Response Plan to work and an Incident Response team to be successful.
Why
CyberCure
for
Incident Response
?
With rich in experience, CyberCure is one of the best Incident Response Company, CyberCure has India's fastest Incident Response team, CyberCure's Incident Response team have vast experience in incident response procedures in a wide variety of industries. We work closely with internal teams to provide guidance and direction that can mean the difference between a thwarted threat and a disaster for your business. We work with your team through all phases of a security crisis to minimize the impact of the attack and put your company in a position to recover quickly, while taking steps to ensure that similar attacks are prevented in the future.

Our managed incident response service can help your business:
Stop the attack

Identify what assets may have been affected

Collect all relevant evidence for civil, criminal, or regulatory proceedings

Remove the source of the breach

Mitigate the financial and reputational impact of the breach

Recommend and implement operational improvements to prevent similar breaches in the future
In CyberCure Technologies Pvt. Ltd. we assured that the company is well equipped to perform Incident Response for any network.
Arrange a Quick Call Back for Consultation