Malware Analysis and Security
Malware Analysis and Security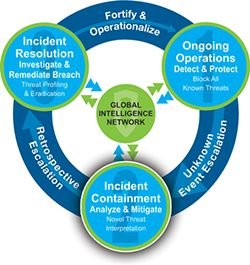 Malware analysis and security is a key component of the Cybercure Advanced Threat Protection solution. The solution integrates products from the Security and Policy Enforcement Center and the Resolution Center to deliver a comprehensive lifecycle defense that fortifies the network by blocking known threats, proactively detecting unknown and already-present malware, and automating post-intrusion incident containment.
Integrated with the Cybercure Content Analysis System and Security Analytics Platform, the malware analysis technology simulates your systems to detect evasive malware, and uses custom virtual environments for faster anomaly detection. Without ever putting actual systems or applications at risk, the technology provides a map of the damage the threat would cause if allowed to run in your network, so you can contain zero-day threats and unknown malware.
In CyberCure Technologies Pvt. Ltd. we assured that the company is well equipped to perform malware analysis and security for any network.
Other Consulting Services
Arrange a Quick Call Back for Consultation