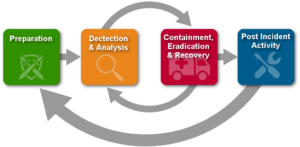 An incident response plan can benefit an enterprise by outlining how to minimize the duration of and damage from a security incident, identifying participating stakeholders, streamlining forensic analysis, hastening recovery time, reducing negative publicity and ultimately increasing the confidence of corporate executives, owners and shareholders. The plan should identify and describe the roles/responsibilities of the incident response team members who are responsible for testing the plan and putting it into action. The plan should also specify the tools, technologies and physical resources that must be in place to recover breached information.
This course discusses the often-neglected topic of managing an incident response team. Given the frequency and complexity of today's cyber attacks, incident response is a critical function for organizations. Incident response is the last line of defense.
In CyberCure Technologies Pvt. Ltd. we assured that the company is well equipped to perform Incident Response for any network.
Other Consulting Services
Arrange a Quick Call Back for Consultation